GoldPeak International Limited is a distinguished Company with two leading divisions: Electronics and a Quick-Service Restaurant. GoldPeak has built a culture of consistently providing technically excellent and creative services to its numerous Clients, against a background of the highest standards of integrity.
The company is founded by visionary and enterprising leaders who are recognized as experts in Management and Excellent Service delivery. They work with a management team of highly experienced individuals who embody the best of their professions.
On the 19th July 2004, the company was registered with the Corporate Affairs Commission as GOLDPEAK INTERNATIONAL LIMITED; a business enterprise under the applicable laws of the Federal Republic of Nigeria with RC No. 602031. It is also registered with the Federal Inland Revenue service with TIN No 02752645-0001. The Electronics Division commenced first.
In December 2016, the Quick Service Restaurant arm, known as GoldPeak All Seasons Food Restaurant, successfully kicked off. It is the epitome of what tasty, hot meals and excellent customer service delivery means. The menu is both Continental and African and it is rich, delightful and diverse in recipes and flavours.
Headquartered in Benin-City Edo State, GOLDPEAK has over 50 staff and has an Eatery, Sales Outlets, Workshops, Warehouses and Showrooms in various states of the Federation.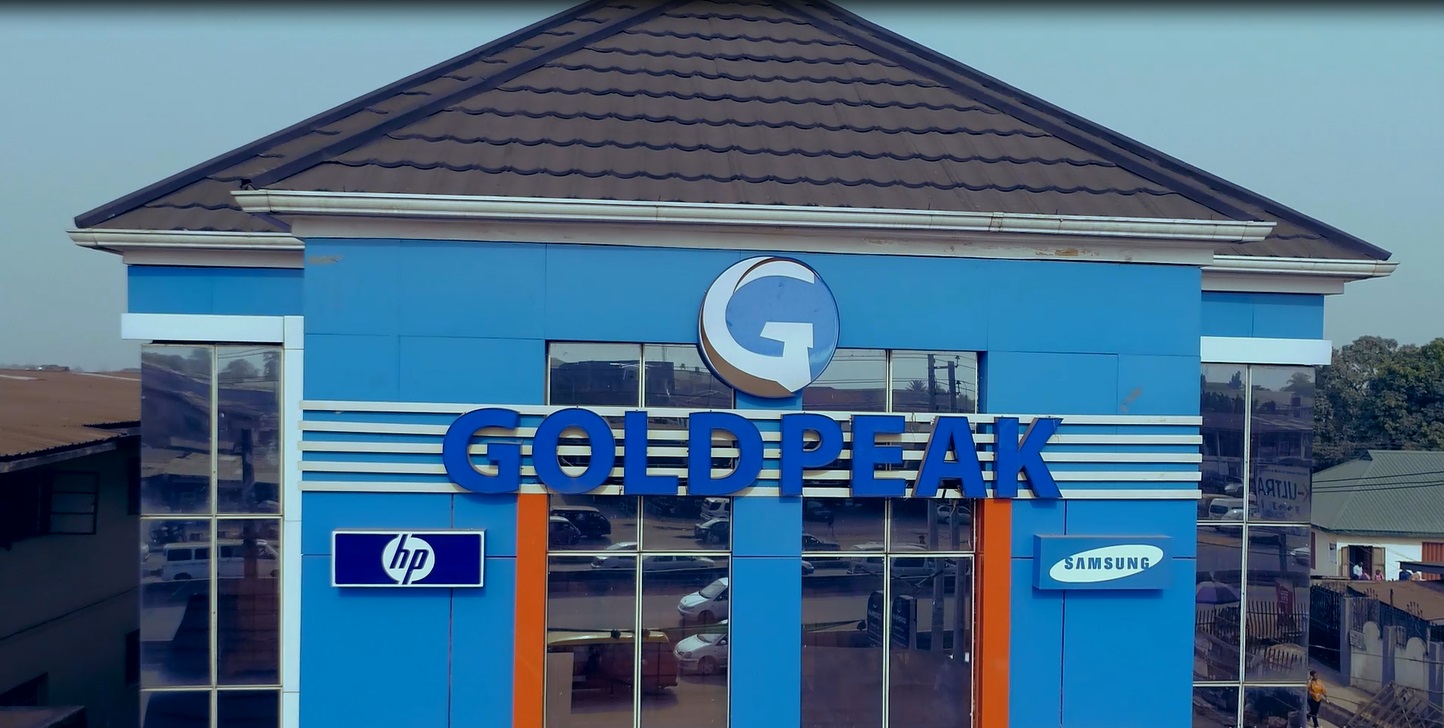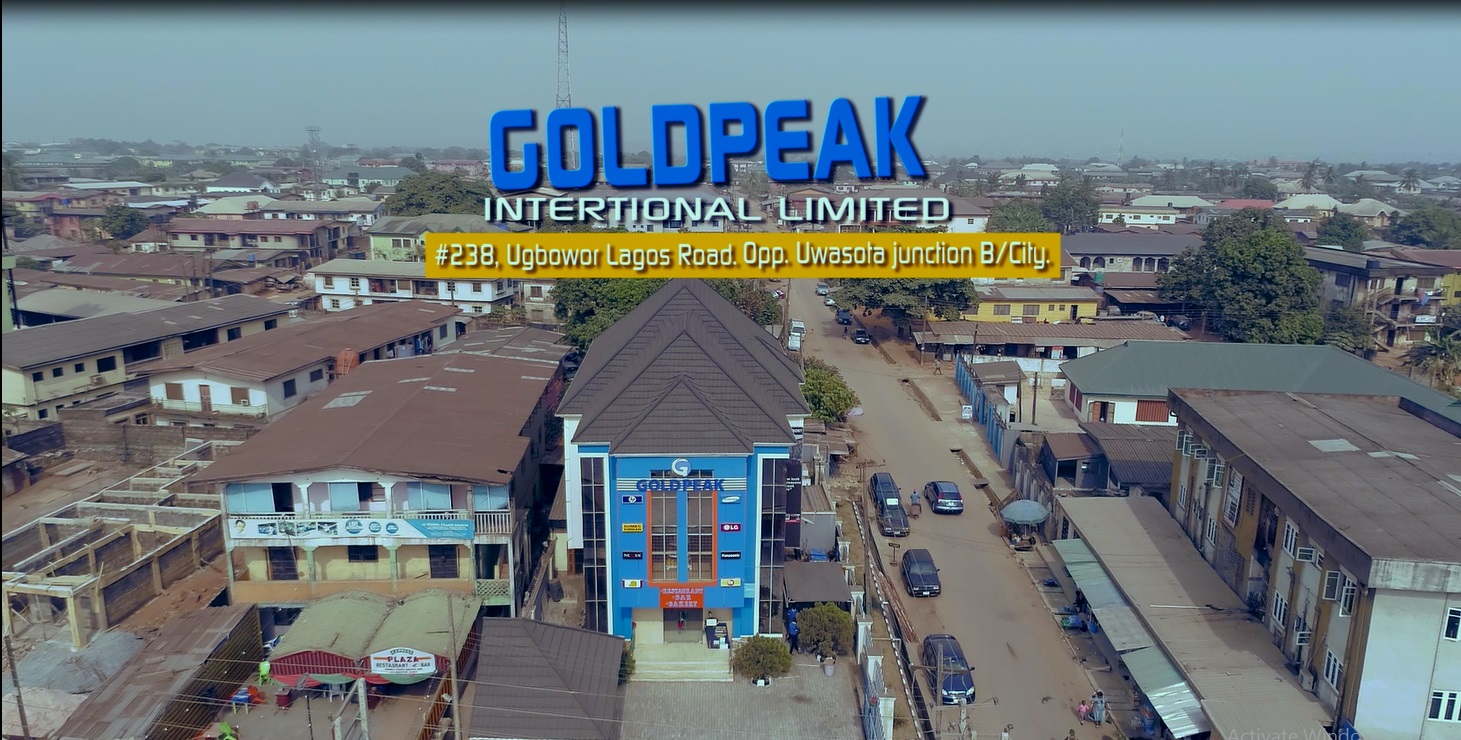 Our Core
For the Electronics Division, our business specializations include Procurement, Merchandizing, Sales, Warehousing and repairs of various leading brands of electrical and power devices. We are focused on improving people's lives through meaningful, innovative technology in consumer electronics, as well as power and labour saving products/devices.
We trade on State-of-the-art electronics and cutting-edge domestic and industrial appliances. These products include: Smart TVs, LEDs, LCD, DVD and Audio Entertainment systems, Laundry and Cleaning Appliances, Kitchen and Cooking appliances, Cooling appliances, Household Power products, Accessories and Gadgets.
We represent such global brands as LG, Samsung, Sharp, Sony, Hisense, JVC, QASA, and many more. We are the sole distributors for SUPERCLIME brand in Nigeria. We market over 1,000 different products from these internationally recognized manufacturers.
For All Seasons Food Restaurant Division, our highly trained staffs work imaginatively to create highly nutritious and hygienic meals. We have the Bakery, BBQ & Shawama, and Restaurant Sections. Items produced from the Bakery include the Home Chef Bread varieties such as sliced Bread, Coconut bread and Queens Roll. Others are Birthday cakes, Buttered Cookies, Chicken and Beef burgers, Chicken Puff, Sandwiches, and Vegetable roll, to mention a few. See (drop button)
The BBQ and Shawama section produces succulent and delicious whole Chicken and Fish, Chicken and Beef Shawamas, Chicken and French Fries, and buttered Pop-corn. There is the mouth-watering, extra smooth and creamy All Seasons Ice-cream in different flavours, to go with every meal as desired.
There are special promos with superb food combinations, at pocket-friendly prices, with something for everyone including children.
For the fantastic Continental and Africana menu, see .
Our Vision
Our vision is to become a leading brand in the Convenience Store and Food Chain industry spread across Nigeria
Our Mission Statement and Core values
GOLDPEAK is determined to be a leading brand in providing the finest quality products and best service delivery by well trained and courteous staff.
Our core values are anchored on satisfaction of our customers through the provision of quality, satisfactory and timely service delivery. Our courteous Staff also applies ingenuous and innovative technological solutions to provide the best possible customer experience, enjoyment and contentment.
Our Values are:
Honesty and Integrity – our entire business is based on trust and dedication, competence and excellence, as perceived by our stakeholders, especially our customers.
Value for Money: We understand that we earn the right to exist by providing long term returns to our stakeholders; therefore, we strive to meet our various targets and deliver our commitments. We deliver value for money at all times.
Respect for both our Internal and External Customers – We have the highest regard for the dignity of all people. We respect each other and what GOLDPEAK stands for. We understand that there are corresponding obligations associated with our individual rights.
Our Culture
Our work culture is service par excellence, attention to detail, and dedication to deliver to customer's satisfaction at the shortest possible turnaround time.
Also, GOLDPEAK is an equal opportunity employer that does not discriminate against employee or applicants for employment on the basis of race, gender, ethnicity, disability, Age, marital status or any other status protected by applicable laws. This applies to all terms, conditions and privileges of employment, including recruitment, placement, compensation, promotion, discipline and termination.